Aladin®
AIR

and DIY battery exchange

The information on this site is for personal use only and is exclusively performed at your own risk without liability of this site, contributors, associates, and/or site operator. This information is not allowed for use in any commercial form or in any other way.

For a successful DIY battery change in an Aladin® dive computer, you will need to have a solid working experience with soldering/desoldering and a general mechanical proficiency to access the battery.

WARNING! Aladin® dive computers are oil-filled. Do not discard the oil as it must be reused when the battery change is completed. You must carefully extract and store the oil. It is strongly recommended to use a syringe/syrette (no needles) to extract and store. Use the rubber gloves !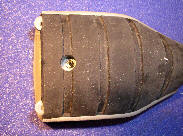 There are only small differences from
the exchange procedure decribed for
Aladin® PRO
- another type of tags at battery (SL-860/PR or SL-860/T ) and
the
battery placing.
The b
attery is placed under the pressure sensor. Unscrew 3 Torx screws, hold Aladin® by
the
sensor up, and CAREFULLY pull up the sensor using for example two screwdrivers as
a
lever.
When
the
sensor is removed, drain small amount of
the
oil (5-7ml suffice), and pull up and change the battery.
Return battery and sensor to it´s positions and turn Aladin® by
the
rubber seal up. Carefully lift
the
seal edge using a precision knife and
then
refill oil.
Beware of bubbles before display. You need to use
rattling,
shakong,
twirl, ponding and alike
to remove them
. It wants a patience...