Aladin® PRO ULTRA and DIY battery exchange
The information on this site is for personal use only and is exclusively performed at your own risk without liability of this site, contributors, associates, and/or site operator. This information is not allowed for use in any commercial form or in any other way.
For a successful DIY battery change in an Aladin®® dive computer, you will need to have a solid working experience with soldering/desoldering and a general mechanical proficiency to access the battery.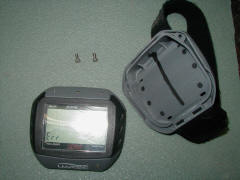 To open an Aladin® Pro Ultra you need only unscrew two screws.
After separating the computer from the wrist trap mount you will see the rubber seal. Prior to opening the computer, please note the following:

WARNING! Aladin® dive computers are oil-filled. Do not discard the oil as it must be reused when the battery change is completed. You must carefully extract and store the oil. It is strongly recommended to use a syringe/syrette (no needles) to extract and store. There is approximately 30ml of oil in the computer.Use the rubber gloves !
To access the battery, you must carefully lift the seal edge using a precision knife. Proceed with extreme caution as to not damage the seal. Once the oil is stored, carefully lift the seal from the computer and set aside.

The electronic circuit board is held in place by four plastic tabs. Disengage the two tabs acroos the battery by inserting a thin plastic strip under each tab.
Before proceeding, maintain your awareness of potential short circuits, static discharge, and inadvertent contact of the plastic case by the soldering iron. Desolder the negative "-" pins (two) of the battery first, then the positive "+" pin. Address and clean the mounting holes for both the positive (+) and negative (-) terminals – this step is recommended but not required.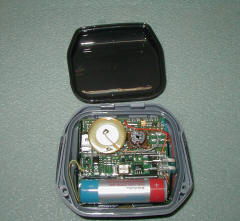 For a replacement battery you can use either the SAFT LS14500 CNA or TADIRAN SL860/PT - I prefer this one. Ensure your battery has the correct size, voltage, and tab position.

Refilling the case with oil is recommended to do in a vertical position with the battery on the bottom. Beware of creating bubbles by filling too quickly. If you cannot re-use the original oil for any reason you can obtain spare oil here: www.cermaks.com
DO NOT USE GLYCEROL!

When you have finished refilling, completely and temporarily close the seal and shake the computer. Orient the computer to allow any bubbles to rise to the top/area where you filled. Ensure no bubbles can be seen on the display and open the seal and lightly allow the trapped bubbles to dissipate by method shown in complete video.

After a successful exchange the Aladin® computer will show "ERR" on the LCD display. Follow the instruction- here.


Complete video of battery exchange in Aladin® PRO (~200MB)
Windows, Uwatec Aladin, Suunto, Nitek a další jsou ochranné známky a autorská práva, která jsou majetkem svých příslušných vlastníků.
Windows, Uwatec Aladin, Suunto, Nitek and other trademarks are owned by their respective companies or organizations